Safety at events is high on the agenda of organisors, emergency services and the government. However, visitors of events would like to feel safe too, during an event. The mayor of a municipality remains responsible for public order and security, but the responsibilities of an events organisor also increase. During a calamity it is essential to inform visitors well, in order to influence their behavior. Our Crowd Information System offers you the possibility to inform, steer and facilitate your visitors!
Our Hikers are led screens that are fabricated on concrete feet and resists to wind power 12. We are able to operate the Hikers individually from one central point, for example an safety control room. This way we create the possibility for you to communicate with your visitors. Beside to messages which contain crowd management, calamities, safety scenarios or evacuation notices, it is also possible to facilitate visitors. When there are no safety issues, you are able to inform your visitors about the program, public transport, the weather forecast, houserules or commercial advertising. The screens are connected to a wireless DVB-T2 network. It has it own broadcast frequency. It's not dependant on mobile providers or WIFI-frequencies. Because of this, the connectivity is very reliable
Using the custom-built software tool is childishly simple. On one screen you see a map of the area. Here you see realtime what is shown on which screen. You are able to modify the content by touching the screen. Within 2 seconds you can change the content on each screen seperatly. In the command centre we monitor all our equipment. And the camera's on top of our HIKERS tell us realtime if the message is really broadcasted.
Would you like to receive more information about our Crowd Information System, or have an informal conversation? Please contact us:
MediaCows
Informaticaweg 12
7007 CP Doetinchem
T. 31(0)314-683725 | E. info@mediacows.nl | www.mediacows.com
DOWNLOAD OUR FLYER: CROWD CONTROL & COMMUNICATION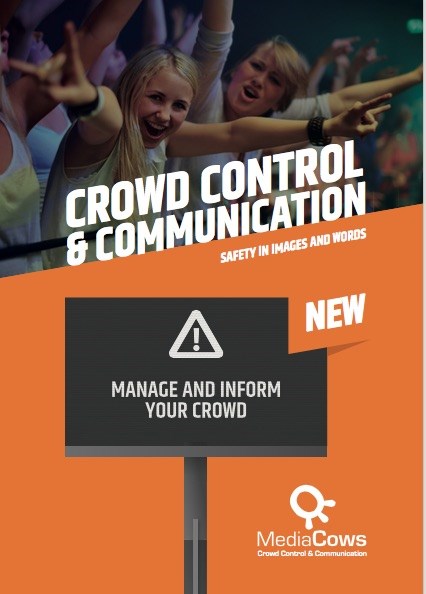 Bijbehorende bestanden
ICIS ENGLISH